« You just see the surface »
Age

: 25 ans


Occupation

: Jeune entrepreneur , Membre des Awesome Voices


Humeur

: Vivante


Statut

: En couple avec Ryder Crawford


Etoiles

: 3260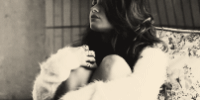 Sujet: 05. Can't get over us Sam 5 Juil - 12:19

---





I got my eyes on you
You're everything that I see
I want your hot love and emotion endlessly


À l'autre coin de la salle, le maintien droit et la démarche assurée, Wyatt la regardait. Deux perles à l'éclat émeraude fixées sur elle et que l'éloignement ne parvenait même pas à lui dissimuler. Paraissant attendre désespérément un signe, une réponse à cette déclaration dont elle était l'unique destinataire, il rendait inexistante la distance qui les séparait, sa voix traversant la pièce pour entourer la jeune femme d'une aura mélancolique. Alors que ses pieds se détachaient enfin du sol dans lequel ils avaient pris racine, Ruby tremblait.



I can't get over you
You left your mark on me
I want your hot love and emotion endlessy


Les mots semblaient être utilisés contre elle comme des armes destinées à lui brûler les lèvres à chaque syllabe. Trop faible face à eux, si imposants et vrais, elle les laissait s'échapper avec langueur. La douleur, plus psychologique que physique, faisait se rapprocher ses sourcils dans une mine peinée. Elle l'avait su au moment même de l'annonce de ce nouveau duo: cette bataille serait la dernière. Et comme chaque fois, elle n'était pas prête. Pas assez préparée pour se livrer. Ni maintenant, ni jamais. Pourtant, on forçait aujourd'hui ses secrets – s'ils pouvaient encore être désignés ainsi – à ressortir de ses paroles, voire même de son attitude. Comme si un sérum de vérité coulait dans ses veines. Cette incapacité à lutter ne faisait que la rendre plus consciente de la tournure des évènements. C'était la fin. Elle le savait.
Désormais face à face, si près l'un de l'autre qu'elle devait renverser la tête en arrière pour contempler le visage parfait du jeune homme, la tension que devait faire ressortir la chanson prenait tout son sens. Tandis que le cœur de Ruby s'emballait, sa main parvenait difficilement à se déloger de son emplacement, le long de son corps, pour venir trouver celle de Wyatt. Si bien qu'après une hésitation perceptible, son bras arrêta sa course pour finalement retomber lâchement sur le côté. Son regard, cependant, ne parvenait pas à quitter celui du docteur, toujours plus hypnotique.



Cause you're a good boy and you know it
You act so different around me

Cause you're a good girl and you know it
I know exactly who you could be

Just hold on we're going home
Just hold on we're going home


Peu importait que la mise en scène n'ait pas été fixée à l'avance tant l'habitude et la complicité des choristes avaient contribué à rendre leurs tableaux plus spontanés. Si une comédie pompeuse de l'amour aurait été exigée et arbitrée par d'autres directeurs de chorale, ne laissant aucune place à la subtilité pour ne pas forcer le public à réfléchir sur ce qui se produisait devant eux, Wyatt et Ruby, au contraire, opéraient avec un naturel à en troubler les spectateurs. Ainsi que la principale interprète de leurs représentations. Fort souvent, l'interprétation de la jeune femme était facilitée par l'attraction insensée qu'exerçait le choriste sur sa personne. Jamais elle ne mettait plus à nu ses sentiments que lorsqu'ils chantaient ensemble. Cependant, une chanson n'étant qu'une chanson, et l'habitude apportant sa contribution, il y avait longtemps que Ruby ne prenait plus les paroles comme de réels outils lui permettant de s'exprimer. Après plusieurs performances partagées avec le docteur, et notamment depuis la rentrée dernière, elle s'était finalement faite à l'idée que les déclarations qu'ils se faisaient tous deux sur scène demeuraient factices, du moins du côté de son partenaire. Ce qui n'empêchait pas l'ancienne étudiante de l'OSU de ressentir, chaque fois, ce pincement au cœur désormais familier, cette impression que tout oxygène avait été retiré de sa périphérie. De n'être plus sensible qu'au son transcendant de sa voix.



It's hard to do these things alone
Just hold on we're going home


D'un accord commun, comme faisant partie d'une unique âme artistique, tous deux reculèrent lentement sans avoir osé se frôler, conservant alors cette atmosphère volontairement tendue qui écrasait Ruby contre son gré. Celle-ci détourna les yeux du jeune homme, peut-être un peu trop inopinément, incapable de l'observer sans imaginer le vide sentimental qu'une telle performance devait engendrer sur lui alors qu'elle se sentait si misérablement sensible. Dès lors que Megan avait annoncé le programme des Sectionals impliquant un nouveau duo entre la ballerine et le soldat du char de Noël, la blondinette avait été prise de panique. La perspective de partager la scène avec Wyatt après les évènements de ces derniers mois la terrifiait. D'une part parce qu'elle craignait, pour la première fois depuis fort longtemps, de se retrouver seule avec lui, d'autre part parce qu'elle désirait également se retrouver dans cette situation. Perdue dans un désordre de pensées, rien n'était encore ressorti des multiples interrogations qu'elle se posait depuis maintenant près de deux mois. Deux mois à vivre d'un enchaînement invraisemblable d'émotions contradictoires lorsqu'elle passait d'une vision de son futur à une autre. Ruby nageait entre deux eaux, incapable d'arbitrer sa propre vie. Savoir qu'elle se trouverait face à l'une des causes de ses troubles sans qu'une personne extérieure vienne interférer sur son jugement était l'assurance qu'un tournant incertain de sa condition se produirait.

Ruby déglutit péniblement. Oui, il était difficile d'aborder le quotidien seule. Depuis leur première rencontre, il n'avait été question que de lui. Quand son regard croisait le sien, elle se demandait inévitablement quelle serait la sensation de ses lèvres contre les siennes. Quand elle entendait sa voix suave lui glisser quelques paroles à l'oreille, elle désirait qu'il l'emprisonne dans ses bras pour ne plus jamais la relâcher. Elle voulait qu'il lui apprenne l'autre aspect de l'amour, celui qui fonctionnait dans les deux sens. Elle espérait qu'il soit sien, et qu'elle lui appartienne. Pourquoi fallait-il qu'elle l'aime autant?
Un changement opéra soudain en la jeune femme. La flamme se réanima, vive, puissante. En se rapprochant de Wyatt, elle maintint sa tête haute et ne chercha plus à dissimuler ses émotions.



You're the one
You're the one
Gave you everything I love
I think there's something, baby
I think there's something

I got my eyes on you
You're everything that I see
I want your hot love and emotion endlessly

I can't get over you
You left your mark on me
I want your hot love and emotion endless endlessly


La note, haute, perçante, serait son cri. La manifestation de son désespoir. Alors qu'elle fermait les yeux pour ajouter l'intensité propre à cette scène, mais surtout pour retenir vainement les larmes qui perçaient depuis ses paupières closes, Ruby se voyait dans sa chambre étendue sur son lit, seule, le visage enfoui dans son oreiller pour étouffer ses sanglots et se couper du monde dont elle était la plus grande honte. Elle parvenait à imaginer la sensation singulière de la fraicheur des draps, de l'autre côté, celui qui n'avait jamais été occupé en sa présence. Lorsqu'elle rouvrit les yeux, deux filets humides avaient laissé leur trace sur ses pommettes rougies.



Cause you're a good boy and you know it (cause you're a girl and you know it)
I know exactly who you could be

Just hold on we're going home

Just hold on we're going home

It's hard to do these things alone
Just hold on we're going home

Yeah


La voix de la jeune femme s'éteint progressivement alors que son regard demandait pardon à Wyatt. Non pas pour les pleurs, mais pour être tombée irrévocablement amoureuse de lui. La chanson finalement terminée, elle couvrit sa bouche avec la paume de sa main pour étouffer un sanglot puis tourna le dos à l'homme qu'elle désirait afin de lui cacher sa faiblesse. Et ne pas avoir à souffrir de sa pitié.